Vorwort – Preface
Ich habe mich entschieden, WhatsApp nicht mehr zu verlängern. Eigentlich ist das seit vielen Jahren fällig. Nun ist es somit endgültig notwendig. Es ist meine Entscheidung und es sind ganz viele Menschen, die das auch tun. Daher diese Hilfe, die Daten zu sichern.
Meine Methode bezieht sich auf mein Umfeld, ich kann jedem, der mich kennt, diese Hilfe anbieten, es kostet uns wegen des Backups jedoch 5-15 Min. Zeit. Ich verwende iMazing, ein Tools das für Windows und Mac OSX verfügbar ist.
I have decided to stop renewing WhatsApp. Actually, this has been due for many years. Now it is finally necessary. It is my decision and there are many ones who do the same. Hence this help to back up the data.
My method refers to my environment, I can offer this help to everyone who knows me, but it costs us 5-15 min. time because of the backup. I use iMazing, a tool available for Windows and Mac OSX.
Für Windows Nutzer
For Windows Users
Ich gehe davon aus dass iMazing auch unter Windows so funktioniert wie auf dem Mac. Während ich hier das aktuelle Backup des Phones auf dem Mac mit dessen Methoden nutze, bietet sich unter Windows das erstellen eines Backups mit iMazing an.
I assume that iMazing also works on Windows as it does on the Mac. While I use the current backup of the phone on the Mac with its methods, You can also create a backup with iMazing on Windows.
Mac OSX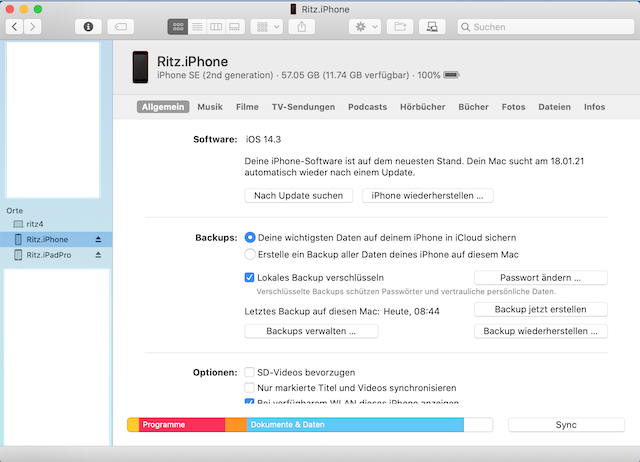 Backup
Schliesse das iPhone über das Lightning – Kabel an den Computer an. Im Mac OSX Finder erscheint bei entsprechender Konfiguration das iPhone in der Seitenleiste. Wähle hier das Gerät aus und clicke im Dialog die Funktion "Backup jetzt erstellen".
Unter Windows oder alternativ Mac erscheint das iPhone in iMazing. Auch dort gibt es eine Funktion Backup.
Backup
Connect the iPhone to the computer via the Lightning cable. In the Mac OSX Finder, the iPhone appears in the sidebar if configured accordingly. Select the device and click the function "Create backup now" in the dialogue.
Under Windows or alternatively Mac, the iPhone appears in iMazing. There is also a Backup function there.
iMazing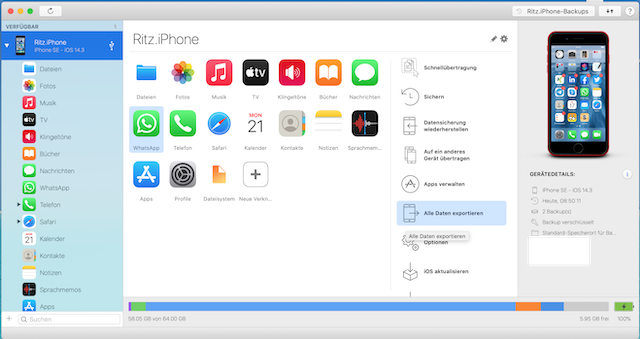 Wähle Export
Wähle WhatsApp unter iMazing aus und clicke in der Seitenleiste auf "Alle Daten exportieren".
Falls bisher kein Backup gemacht wurde, so wird spätestens hier danach gefragt.
Ich kann hier nicht auf alle Bedienungs-Varianten bedingt durch verschiedene Konfigurationen und Versionen eingehen.
Choose Export
Select WhatsApp under iMazing and click on "Export all data" in the sidebar.
If you have not yet made a backup, you will be asked to do so here at the latest.
I cannot express all the operating variants here due to the different configurations and versions.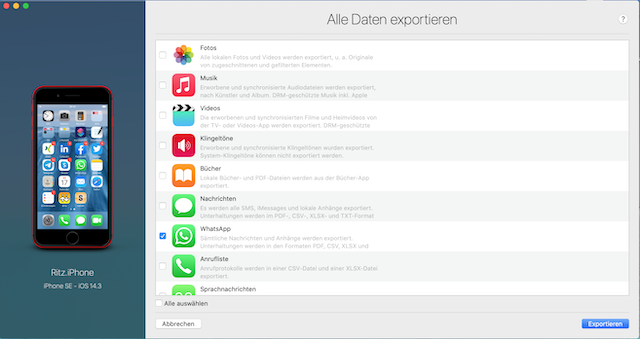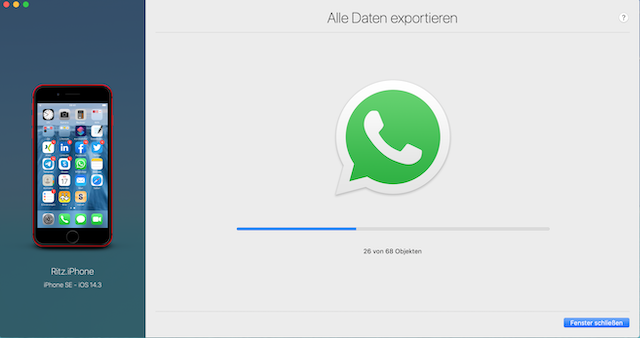 Exportieren
Im nächsten Schritt findet der Export statt.
Neben Whatsapp können im gleichen Schritt neben WhatsApp auch andere Daten exportiert werden.
Export
The next step is the export.
In addition to Whatsapp, other data can also be exported in the same step.
Dateisystem / Filesystem

Anmerkung / Remark:
Die User-Spezifischen Teile sind ausgeschnitten. / The user-specific parts are cut out.
Ergebnis
Nach dem Export wird der gesamte Chat-Account von WhatsApp je Kontakt exportiert:
Chatverlauf als Text .txt
Chatverlauf als strukturierte Tabelle als csv zum Import in Excel, OpenOffice u.a.
Chatverlauf als strukturierte Tabelle als Excel
Chatverlauf mit alle Bildern eingebettet als PDF
Jede Grafik oder jedes Dokument das im Chat eingebettet wurde
Somit wird auch deutlich, dass iMazing auch sehr gut für andere Applikationen geeignet ist.
Result
After the export, the entire chat account of WhatsApp is exported per contact:
Chat history as text .txt
Chat history as structured table as csv for import into Excel, OpenOffice etc.
Chat history as structured table as Excel
Chat history with all images embedded as PDF
Any graphic or document that was embedded in the chat
This also shows that iMazing is very well suited for other applications.